Queuing. We're all doing a lot more of it these days. From standing waiting to enter supermarkets, or the hairdressers, we are now having to spend a lot of our precious time queuing for things we once never did, and let's be honest, we took it for granted.  With social distancing measures firmly in place, we find ourselves physically having to queue a lot more that we used to. But has this necessity to queue led to a whole new level of tolerance for the things that used to frustrate us the most?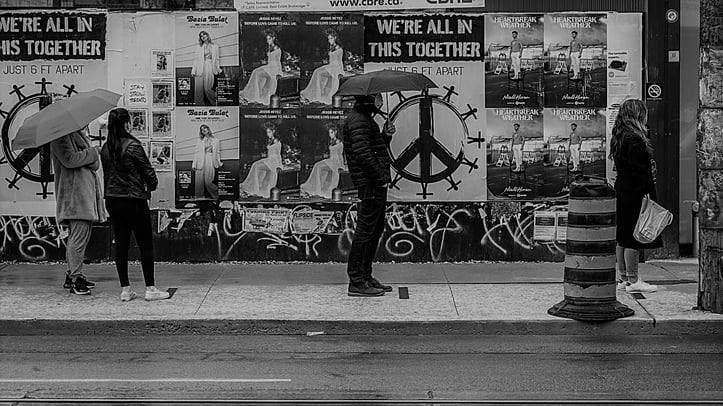 As we head into winter, no one is looking forward to standing in the rain for 30 minutes to get a prescription, or pick up a takeaway, but we will probably still do it. Inadvertently, it's caused our brain to rethink and re-evaluate. Not only to not take things for granted, live in the moment, never say never, and all those COVID clichés, but it's put previous frustrations into a different perspective.
So how does this affect contact centres?
LOCKDOWN. It's the perfect storm for contact centres. An increased number of inbound calls to be answered by fewer staff, as companies are under pressure to do the right thing. No wonder the Average Wait Time doubled across the industry! BUT! In amongst all this, callers are somehow becoming more forgiving than usual.  But why? Simply put, standing in the rain queuing to do your big shop became one of many new frustrations, mostly because it has forced us to slow down. This has helped us look at things differently. An example of this new outlook is when calling a company, being on hold for 20 minutes isn't so bad when you can go about your day (at home), or use it as an excuse to take a breather and sit with a cup of tea while you wait. And while it is still annoying (we'd rather not have to call in the first place of course), it's a frustration that doesn't necessarily slow us down. We can continue to multitask if we choose to, so it suddenly ranks lower in terms of something we really don't want to do. There is a HUGE caveat to this though...
The Art of Queuing
 The queue experience itself must fit the caller's state of mind and be engaging when needed. In-queue experiences have got to keep a certain level of zen, or in some cases create it. It is vital that when contact centres are keeping callers waiting, they must adopt in-queue best practice or they risk damaging the overall customer experience entirely.  Creating a fluid, personal and agile experience is an art. The music must fit, the tone of voice has to have the right level of empathy, the scripting has to be in context and the list goes on, but get the experience right and it can become a platform to inform, encourage self-serve, and most importantly, engage. Think of it like sitting in a waiting room. We have to do it from time to time, but make sure it's warm and pleasant, with something to read, a comfy chair to sit in and someone coming in to say it won't be long in a comforting manner... We all need to sit in waiting rooms, but isn't it much better to sit in one that is tailored to your likes, and is friendly and comfortable, rather than a damp room with peeling wallpaper, and no end in sight...?
We are giving back
Premier CX have seen first hand the challenges contact centres are facing and want to give back to the industry by divulging some of the best kept secrets on how to create an engaging in queue experience. It's an art so we are hosting a webinar on Thursday 12th November at 11am in conjunction with Southwark Borough Council, to discuss the best kept secrets of creating in-queue content and sharing their knowledge on crafting a great caller experience. Click here to register today.
Find out more
For more information about  Premier CX visit  www.premiercx.co.uk/qexperience/ or contact us at hello@premiercx.co.uk.