According to Digital Marketing Magazine, a staggering "98% of all SMS messages are opened by the user, compared to only 20% of emails". Combining this with an average response time of 90 seconds, could adding text message to your customer contact strategy be the way to go?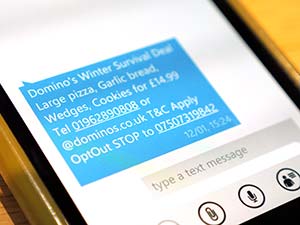 SMS and mobile text messaging is by no means a new form of technology. However, like many methods of contact, the way in which it is used appears to be evolving.
Every week, almost without fail, a popular takeaway pizza company sends out texts to customers to rile them up into a feeding frenzy. Usually these personal texts seem to arrive on a Tuesdays, with their very popular 'Two for Tuesday' offers. Although this is primarily a marketing activity, it further emphasises the impact of a bespoke customer contact strategy across a variety of channels.
A relatively unobtrusive method of contact, SMS is a familiar and more natural form of customer experience communication that contact centre operations are beginning to deploy. Examples of the use of SMS include; real-time delivery updates or ticket updates, written instructions, and feedback forms, to name but a few. Contact centres across the UK are also starting to use SMS in order to alleviate queue times and empower their agents. Amazingly, sending links to videos, pictures, and PDF's directly to mobile users is helping to reduce costs and improve customer experience.