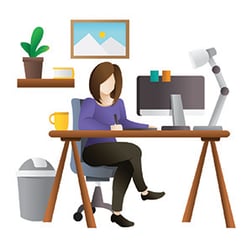 It might already sound a little trite but these really are unprecedented times. And, for many of us, it means working from home is now a full-time reality rather than the occasional option for when you have a dentist or doctor's appointment.
So how do you stay upbeat and positive when you're working on your own all the time? Here are some tried and tested tips garnered not just from the coronavirus lockdown but also from an injury that resulted in being unable to walk, drive or leave the house for a month.
Get a routine – it may sound counterintuitive, surely the 'fun' part about working from home is that you don't have to commute or wear a suit but if you dispense with routine altogether you may find it impacts negatively on your state of mind and your self-motivation.
So now that you're working from the comfort of your own home every day, you can create a new routine that can be just as flexible as any other but that makes sure you're taking care of your mental health whilst getting your work done. Remember to take breaks, like coffee o'clock. If you did it before you may want to continue to wear a little bit of makeup and, definitely, get dressed!
You could work in your jammies but remember in this age of video conferencing do you really want your clients or your colleagues to see what you look like when you've just rolled out of bed? Take time to develop a new, working from home routine that allows you to be supported and maintain your equilibrium whilst being on your own because the novelty of that does wear off after a while!
Get some exercise – even if you didn't before, now is the time to invest in your health because not having to commute to the office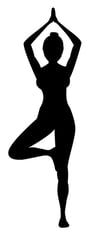 means you have more time for you and, ideally, more energy. So why not get up at the same time as you did before to schedule in a bit of morning yoga? There are free classes online that take into account your abilities (beginner, intermediate, advanced) and allow for any physical limitations. You could use your government approved exercise time by going for a run. The NHS has a couch to 5k aimed at people who don't get regular exercise. Or, if you're self-isolating and can't leave the house here are some routines that you try on your lunch break or once you've clocked off for the day.
Get calling – No man is an island!! And even though you might normally pop through an email to a colleague or client or, with the advent of Microsoft teams, send a message to your team, remember when you are in the office you do talk to your colleagues from time to time and you still need that interaction. And, if you have the option of Skype, Teams or WebEx use the video as it is nice to see your work buddies and check out their working from home set up, if you're a bit nosey!
If you really are struggling with the current isolation remember to reach out to your trusted colleagues or your line manager. We may be doing this on our own but we're not doing it alone.