Introduction by David Richardson, Head of Creative at Premier CX
The talented Premier CX studio team create the magic between the moment a client has approved their script and the satisfaction of hearing the finished audio. Here's a snapshot of how the magic happens, from Studio Technician Isaac Sadovich...
-----
A typical day includes booking and running recording sessions for voice artists and then editing and mixing the raw recordings. There's plenty of variety, working on audio for our IVR clients and producing in-store messages that are played in a huge range of retail sites nationwide.
We're often working on thirty or more productions a day, which are sent to the studio through Premier CX's secure, cloud-based, Prompt Voice system. It manages the script for the voice artist, the studio team and for the Creative Account Managers. It ensures deadlines are set and kept to and everyone can see where the audio is in the production process.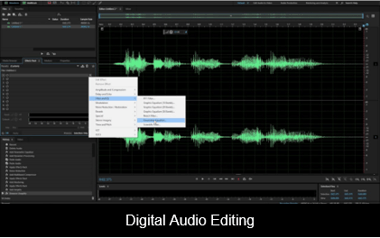 We have our own fully equipped studio and sound-proof recording booth to ensure top quality recordings. This goes right down to the selection of the highly capable and versatile Adobe Audition editing software and even which microphone we use. Our Neumann studio microphone has been selected for its relatively flat frequency response. Sounds complicated, but it means we keep the original sound and quality of the voice artist's delivery. That's key, since the voice has been selected to represent a brand and they need to hear that character come through on the final audio. We also have the advantage of recording over an ISDN network which gives us the ability to connect to and record hundreds of voice artists around the UK and elsewhere in real-time.
The fun part is putting the creative spin into the audio. We have access to an extensive sound effects archive and work closely with the rest of the Creative team to realise the vision expressed in a client's script. Selected music can be mixed with the voices and effects in the multi-track editing software. Where needed, we can even add a bit of extra beat or adjust the pace of a tune to hit the sweet spot for an individual audio piece. Sometimes it can come down to the removal of a single breath or adding a fraction of a second pause.
Finally, each production is quality checked three times before being dispatched to the client. Firstly, by the creator in the studio, then by another studio team member, then by one of our colleagues in the Account Management team. Mistakes can happen in any process, and this ensures they're detected and corrected before they are sent into the real world.
-----
Thanks Isaac. If your telephone audio messaging isn't produced with the same care and attention to detail, then why not let Premier CX work our magic for you. Click here for more information about our Audio Branding services.