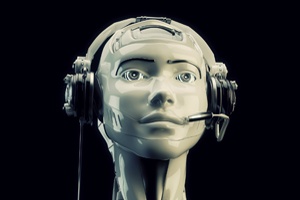 Facebook's Mark Zuckerberg is planning to revolutionise the way we receive customer service in the future. Tomorrow's customer experience will be all about 'artificial intelligent' Facebook chat bots'! The idea is all about using technology to intuitively start conversations directly with companies through Facebook messenger, allowing them to ask questions, make a complaint or place an order.
So what's the benefit to us? For starters Facebook messenger will keep all of your previous conversations, cutting out the need (& irritation) to regurgitate the same info over and over. It's likely to attract more people away from the traditional phone channel of customer service, and simply appeal further to the tech savvy generation who are completely au-fait with social media anyway.
But this shouldn't mean the death of the agent (and not literally of course) in terms of customer contact in service. There will always be a need for that 'human' dialogue that detects emotion and understands empathy. Plus like any new technology, if people can't get what they want from it then they will always default back to traditional methods, which in this case would mean picking up the phone and speaking with a human agent.
Zuckerberg's goal is that within 10 years all Facebook users will connect with businesses big and small via these bots. So here's hoping that by the time Facebook bots are introduced the technology will be as clever as Mark thinks it is!