The annual South West Contact Centre Awards were held last week at Ashton Gate Stadium, Bristol. Premier CX were proud to be involved for the fourth year in succession, this year sponsoring and presenting the awards for Customer Engagement and Performance and Quality.
Hosted by comedian Mark Watson and attended by over 500 guests from across the South West contact centre industry, the awards celebrated the people, organisations and initiatives that keep contact centres in the South West at the forefront of new developments in the industry.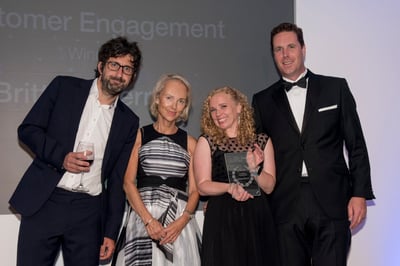 The winners of the Customer Engagement Award (pictured with Mark Watson and Kevin O'Connor, Director of Contact Centre Sales at Premier CX) were Brittany Ferries whose entry was recognised for being "engaging and passionate with very clear direction of how best to engage with their customer base using multi-channels", while the winners of the Performance and Quality Award (pictured below) were Motability Operations, about whom the judges praised their entry as having "delivered exceptional results – transformational customer service".
Speaking about the awards, Kevin commented "It's a pleasure to support this key event in the contact centre calendar. A fantastic night recognising great people for their outstanding achievements!"
Premier CX would also like to wish a huge "congratulations" to all the winners and finalists across all the award categories.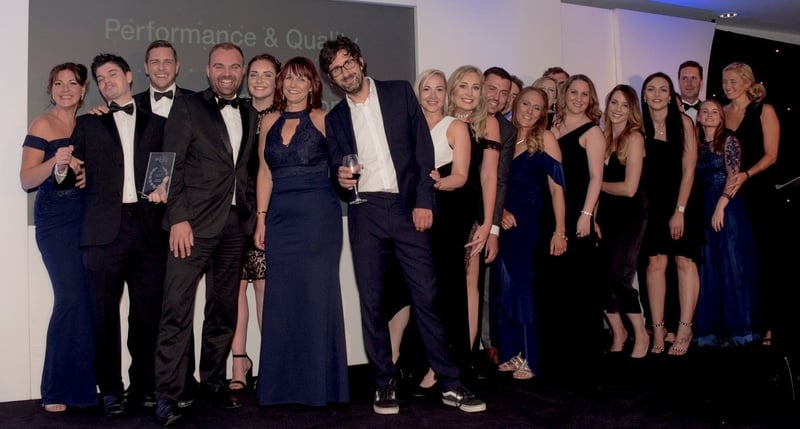 For more information about the South West Contact Centre Awards, please visit swccf.co.uk/Awards/South_West_Contact_Centre_Awards/ and to see what Premier CX has already done to optimise contact centre customer experience (and what we could do for you), why not download our free ebook

now.